The Autoimmunity Research Foundation is a 501(c)3 charity whose educational efforts are focused on helping Health Professionals, and the public, understand the cause of Th1 chronic inflammatory disease.  Many chronic and autoimmune conditions, including Fibromyalgia (FM), Rheumatoid Arthritis (RA), Multiple Sclerosis (MS), Chronic Fatigue Syndrome (CFS/ME), Post Treatment Lyme Disease Syndrome (PTLDS), Sarcoidosis, Depression, and Bipolar Disorder, are now succumbing to therapies based on our molecular description of inflammatory disease biology.
Patients are no longer waiting for current medical practice to catch up with today's understandings in metagenomics and microbiology. They are looking for ways to take steps to recover now, not two decades from now.
Watch the latest Presentations of the Science online: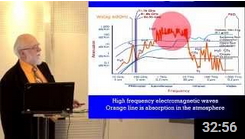 Patients are beating their diseases.
And their stories are often able to provide hope for others with the same diagnosis or who are suffering with an undiagnosed chronic condition.
In 2003, this school teacher from Indiana was suffering from Sarcoidosis, Fibromyalgia, Chronic Fatigue Syndrome, and myriad other symptoms. Today, thanks to Autoimmunity Research Foundation's Marshall Protocol, she considers herself healthy and is traveling the world with her husband. » read more of Carole's story «
At the lowest point in his life, this Canadian native was so sick that he could do nothing more then lie in a dark room, thinking about the fact that his body seemed to be on fire. His symptoms of twitching, swollen muscles and raging emotions were out of control. However, after a series of antibiotic regimens that finally led him to Autoimmunity Research Foundation's Marshall Protocol, he has recovered to the point where he feels like a kid in a candy store. » read more of Ken's story «
Science to share with your doctor.
If pathogenic microbiota are capable of persisting inside the very cells of the immune system that are required to fight extracellular infections, this fact is a game-changer in the treatment of chronic conditions. If biofilms are the challenge just dawning on the awareness of clinical medicine, how long will it take before it is even recognized that therapies are needed to treat persistant intracelluar infection of the immune cells?